Do you wonder what living in Paris is like? Here are some useful tips!
ACCOMODATION SOLUTIONS
To help you to find an affordable accomodation in Paris or close to our campuses, ESME partners with various services, specialized in finding and redirecting you to trusted, convenient and available student residences or appartments.
Once your application to our programs is completed, you will benefit from discounts and preferential prices from our partners down below :
Erasmus Play

Created by students, for students, ErasmusPlay is a platform that aims at answering the struggles many international students faces when searching for accomodation in Paris, or European cities. Among the 250 000 accomodation solutions listed on this search engine, every studio, student room, appartment listed on this website is verified, and visited beforehand to ensure the security of your booking. This service accompanies students before, during, and even after arriving in the booked accomodation solution.
Studapart

Studapart is a specialized platform to find accomodation near student campuses in France. Visiting and verifying with the landlords every accomodation that is listed on their search engine, they are able to offer you affordable deals, and can offer to be your warrant, if needed for your accomodation booking.
https://esme.studapart.com/en/register/student
GETTING AROUND
REACHING DOWNTOWN PARIS FROM THE AIRPORTS
REACHING ESME
Paris – Montparnasse Campus
40 rue du Docteur Roux
75 015 Paris

Metro line/stop
Line 6 stop : Pasteur
Line 12: stop : Pasteur or Volontaires

Paris South Campus – Ivry
38 rue Molière
94 200 Ivry-Sur-Seine

Metro line/stop
Line 7 stop : Mairie d'Ivry
RER C stop : Ivry-Sur-Seine
(MONA and ROMI trains)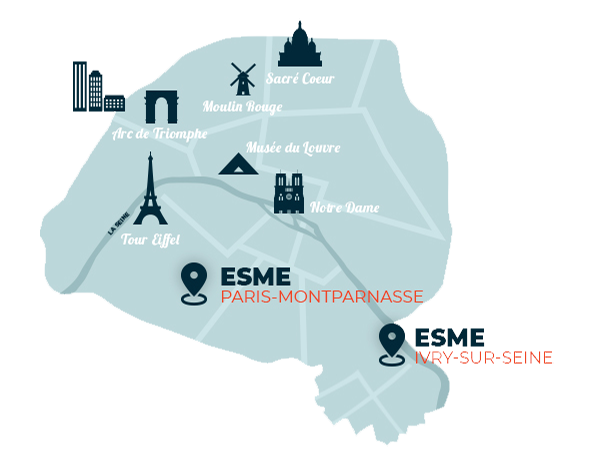 ESME has two campuses in Paris. Graduate students will take classes at ESME Paris South Campus and undergraduate students will be mainly studying on ESME Paris-Montparnasse but might also take a few classes at ESME Paris South Campus.
GETTING AROUND IN PARIS
COST OF LIVING IN PARIS
HOW MUCH LIVING IN PARIS COSTS
Living expenses in France vary depending on students' lifestyle. Below is an average estimation of the costs of living in the Paris area.
Monthly average main expenses might be between 900€ and 2000€
Rent – Accommodation≏ 500 (flatshare or student room) to 1000€ */month (one-bedroom flat)
Paris public transportation pass ≏ 70€/month (student price)
Food ≏ 200€/month
Internet ≏ 20€/month
Parties – Going Out ≏ 60€/month
Cultural visits ≏ 15€/month
Mobile Phone ≏ 5€/month
Travel ≏ 75€/month
* More information : Prepare your budget
EXPLORING FRANCE AND EUROPE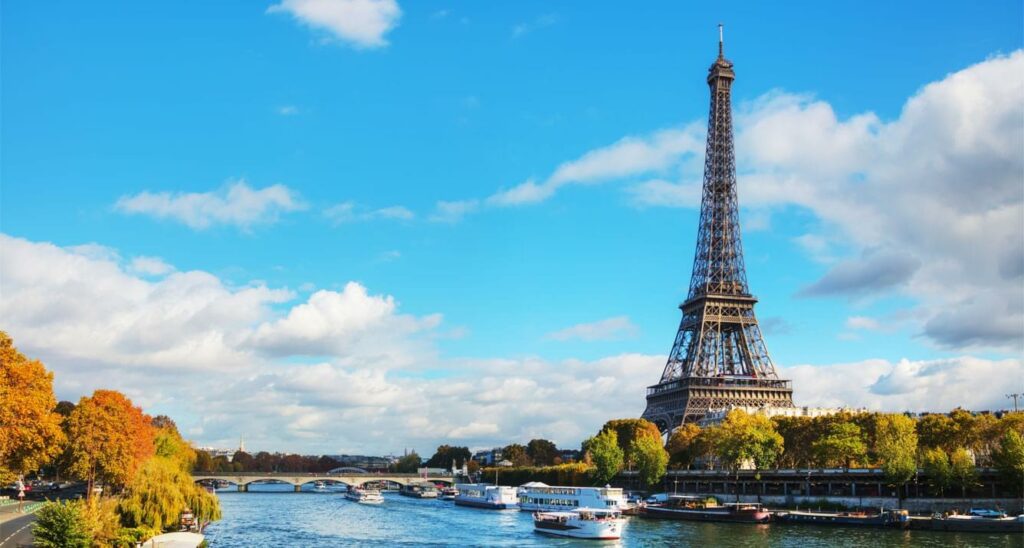 EXPERIENCING FRENCH CULTURAL LIFE
ENTERTAINMENT
Culture: The city of Paris has countless activities on offer: theater, museums, cinema…take the time to explore all the options: en.parisinfo.com

Museums: Reduced rates for students and youth under 26. Free admission on the 1st Sunday of every month: en.parisinfo.com/what-to-see-in-paris/museums

Cinema: Reduced rates for students and youth under 26. Most movie theaters in Paris show English speaking films with subtitles. Loyalty and unlimited access card:
Concerts, opera, theater: Free and reduced-rate events
CALENDAR
ERASMUS STUDENTS NETWORK
The Erasmus Student Network community offers many activities for international students in Paris.
Join the Facebook page to be part of this network https://www.facebook.com/esn.paris/.